Roses are Red, Violets are Blue, Flowers have Secrets that I'll Share with You
The ever important selection of the bridal bouquet. 
Many brides-to-be base their bouquet selection on 2 criteria:  color and appearance.
  But what if you are poet at heart, a hopeless romantic whose sentimental heart yearns to be expressed through less obvious means? 
What if you want to have, not just a beautiful bouquet but one fraught with meaning…like a secret message to your love?
  Meaning and sentiment?  What could these possibly have to do with a bridal bouquet?  Everything. 
Flowers have a secret language unto themselves.
  So for those of you who would like to have, not just a beautiful bouquet, but one that tells a story, I present to you…
The Hidden Meaning of Flowers:
"There is a language, "little known,"
Lovers claim it as their own.
Its symbols smile upon the land,
Wrought by Nature's wondrous hand;
and in their silent beauty speak,
Of life and joy, to those who seek
For Love Divine and sunny hours
In the the language of the flowers."
-F.W.L.
Lily of the Valley & Forget Me Nots:
Meaning: 
Lily of the Valley – Return of Happiness
Forget Me Not - True Love.
Violets & Pansies:
Meanings: 
Violets – Faithfulness
Pansies – Thoughts
Roses & Honeysuckle:
Meaning:
Roses – Love
Honeysuckle – Bonds of Love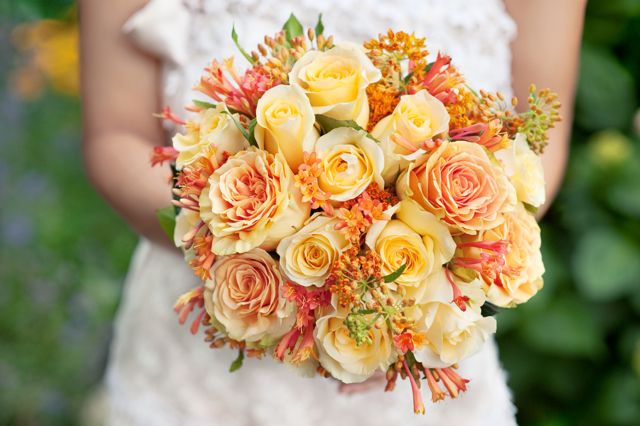 Lily of the Valley, Hyacinth, Sweet William & Myrtle:
Meaning:
Lily of the Valley – Return of Happiness
Hyacinth – Loveliness
Sweet William – Gallantry
Myrtle – Love
(and yes, that is Catherine Duchess of Cambridge's wedding bouquet…simple and lovely)
Sweet Peas:
Meaning:  Sweet Peas – Lasting Pleasures
Snowdrops:
Meaning:  Snowdrops – Hope
For more information about flowers and their meanings visit Teleflora.  Though not a comprehensive list, it covers many of the more popular flowers' meanings.  For a more comprehensive collection try "A Victorian Flower Dictionary."
Kisses & Chaos,
Alli Woods Frederick
Image credits:  |  field of flowers – Indestructible Ideas   lily of the valley & forget me nots – stock photo |  violets & pansies - Martha Stewart Weddings  |  roses & honeysuckle – The Full Bouquet  |  lily of the valley, hyacinth, sweet william & myrtle – Betty Loves Blooms  |  sweet peas  |  snowdrops  |
About The Author:
    Alli Woods Frederick
is an artist, photographer, writer, reiki master, intuitive & zombie slayer extraordinaire who blogs at
KissesAndChaos.com
.  She is also the art editor for
All Things Girl Magazine.
  Her feline companion,
Mischa the Wonder Cat
, is currently being considered for sainthood.  She has a deep and abiding love of fancy dress, Bruce Campbell, Bob Hope, Adam Ant, the 1930′s & tea parties.   She has a borderline unhealthy obsession with ghosts, shoes, zombies, the deep south, England and glitter, though not necessarily in that order. 
Her photography has been featured in
F-Stop Magazine
and
All Things Girl
and her writing has been featured on
HelloGiggles.com, The Goods, Kind Over Matter
and in
The Radical Uprise Issue #021: Grow/Create.
Her photography has been exhibited at
Springbox Gallery
in Portland, Oregon.  To view more of her photographic/artistic work visit
AlliWoodsFrederick.com
.